Dear Dino,
Your company Veroforno has really got the best ovens on the market. My company is Three Brother's Italian Kitchen and I, Mario Repole am the person in charge of research and development.

We have used your ovens for over a year now, and the only maintenance we've had to do is replace 2 light bulbs, which gives me the conclusion that your ovens are very reliable and productive.
The versatility is remarkable and we have used it to cook pizza, cookies, and assorted breads, lasagna, and roast beef. It has been wonderful for our catering business because we can adjust the temperature to 150 degrees- 500 degrees in such little time to accommodate the types of food we use for our catering orders.

This cannot be accomplished with our other deck ovens.

Just to let you know, in the near future you should be expecting us to place more orders!

Look forward to seeing you soon,
_____________________________________________________________________________________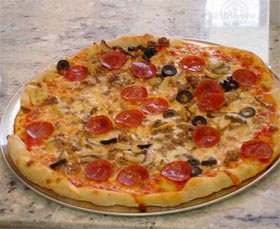 I'm writing this letter to tell you how pleased I am with the performance of the Veroforno Pizza Oven I purchased from you earlier this year.

I am amazed at the savings on my gas bill, with the new oven I am saving over $500.00 per month. Also because of the heavy interior insulation of this well designed oven, my cooling costs for my restaurant have also dropped considerably.

Not only does it evenly brown the pie without turning, it has reduced my pizza cooking time down to seven minutes per pie, which allows me to deliver a superior product to my customers in less time.

Thank you so much for introducing me to this product line.

Sincerely yours,
Mario "Max" DeMarchi
Owner "Max's 31 - A Trattoria"

__________________________________________________________________________________

I was introduced to the Veroforno oven through a mailer sent to my restaurant a few years ago. Although my restaurant had been using the same ovens since 1957 and was not looking to change, I was aware of their shortcomings and the Veroforno oven seemed to hold all of the answers.
After speaking with Mr. Dino Maggiore on the telephone about his creation, I was convinced that I had to see this oven in action. After arranging to my dough, sauce, cheese, and toppings to be shipped to the showroom, my business partner and I flew in from Oklahoma to bake pizzas in the Veroforno.

We were impressed that every claim made by its designer was quite true. The heat blanketing the cooking chambers was consistent and even no matter if you were cooking in the back right corner or the front left corner. Using the 3-deck oven, we were able to load 27 pizzas at the same time and not have to worry about spinning or rotating to avoid hot spots in the oven. Every pie cooked evenly from top to bottom and side to side.
Owning a location across the street from the Oklahoma State University, involvement with the university is a natural part of doing business. With the proposal of a 55,000 square foot Alumni Association facility across the street, my business has asked to form a partnership with the association and be it's exclusive pizza caterer for hundreds of events throughout the year. To guarantee the partnership, in addition to a large cash donation, we proposed the donation and installation of a Veroforno oven in order to prepare pizzas on site for group ranging in size from 10 to 2000. We knew the oven was able to handle the number of guests while cooking in a cook and controlled environment where no time would have to be wasted rotating and spinning pizzas.

During the course of construction, the oven became the star of the $20 million Alumni Association building project. Every news story about the new Alumni center focused on my business and its donation of a hand-crafted pizza oven made in Italy. Although a large corporation had donated over $4 million to earn the right to name the building, it had been dubbed the "Hideaway Alumni Center" by the public simply due to the publicity surrounding the Veroforno pizza oven.

Aside from the remarkable press, the bottom line is that we are impressed by the Veroforno pizza oven and its ability to bake consistently beautiful pizzas. Our pizza cooks beg for the chance to help cater events at our remote location because of the oven. If your restaurant has a need to bake pizzas in an oven without 'hot spots,' reduce cook time and offer a consistent product, I highly recommend the Veroforno by Maggiore Veroforni.

Sincerely,
David Sanders
Managing Partner
Hideaway Restaurant, Inc.
_____________________________________________________________________________________

Here at A&S Bakery, we take pride in our products to ensure customer satisfaction. About two years ago, I purchased an oven from Maggiore Veroforni, Inc. because I had heard of the many opportunities that if had to offer. After speaking with Mr. Dino Maggiore, I was soon convinced to buy an oven. I soon purchased the Veroforno 3-deck oven, which was a great investment for my business.

With the new oven I was sure it would boost sales and productivity. My prediction proved to be right! With the new oven, sales were greatly increased because of the way the oven cooks, as well as accessibility of the oven. Even my employees like having the new oven they thought it was an easier way of baking. The oven I purchase enabled me to expand my product line. From breads, cookies, pizza just to name a few, I was able to expand into a line of productivity unlike before.


Not only did the oven help sales, and was easy to use, but my cost of gas went down. The oven proved to be more cost efficient for me and my business. Why? The answer is simple. It uses a minimal amount of gas because the heating system evenly distributes the heat.

I bought the oven from Mr. Dino Maggiore, because he is a dependable person, who doesn't go back on his work. The oven has never given me a single problem. I can't afford to have one with a steady stream of customers.

Sincerely,
Salvatore Abbate
Owner